About College hill
dental group
Our dental team is passionate about two things. Healthy Teeth & Relationships In Our Community.
Giving back and being involved in the College Hill Community is the backbone of our dental practice. Below are just a few of the events we have proudly supported. Much more to come! 
Proudly Serving: Easton, PA • Forks Township, PA • Palmer Township, PA • Wilson, PA
Bethlehem, PA • Lopatcong, NJ • Tatamy, PA • Alpha, NJ • Phillipsburg, NJ
Dr. David Moghadam
Dr. Moghadam was born and raised in Morris County. After completing his undergraduate degree at Rutgers University in New Brunswick he went on to obtain his Doctor of Dental Medicine Degree from the University of Medicine and Dentistry (UMDNJ) in Newark. During his time at UMDNJ, Dr. Moghadam received extensive recognition for his outstanding leadership, academic and clinical aptitude, and dedication to the profession. Some of his achievements include receiving the William R. Cinotti Endowed Scholarship and the American Student Dental Association Award of Excellence as well as induction into the Gamma Pi Delta Prosthodontic Honor Society. He then chose to complete a General Practice Residency at Robert Wood Johnson University Hospital in New Brunswick where he received advanced training with an emphasis on comprehensive restorative treatment, Endodontics, and Implant Dentistry. Dr. Moghadam is also an active member of the American Dental Association, the Pennsylvania and New Jersey Dental Associations, the Academy of General Dentistry, and the American Academy of Implant Dentistry. He has had the honor of serving as a member of both the Board of Trustees and the Board of Delegates for the New Jersey Dental Association. Dr. Moghadam has attended numerous continuing education courses and strongly believes that furthering his knowledge and expertise is essential to providing his patients with the level of care and respect that they deserve.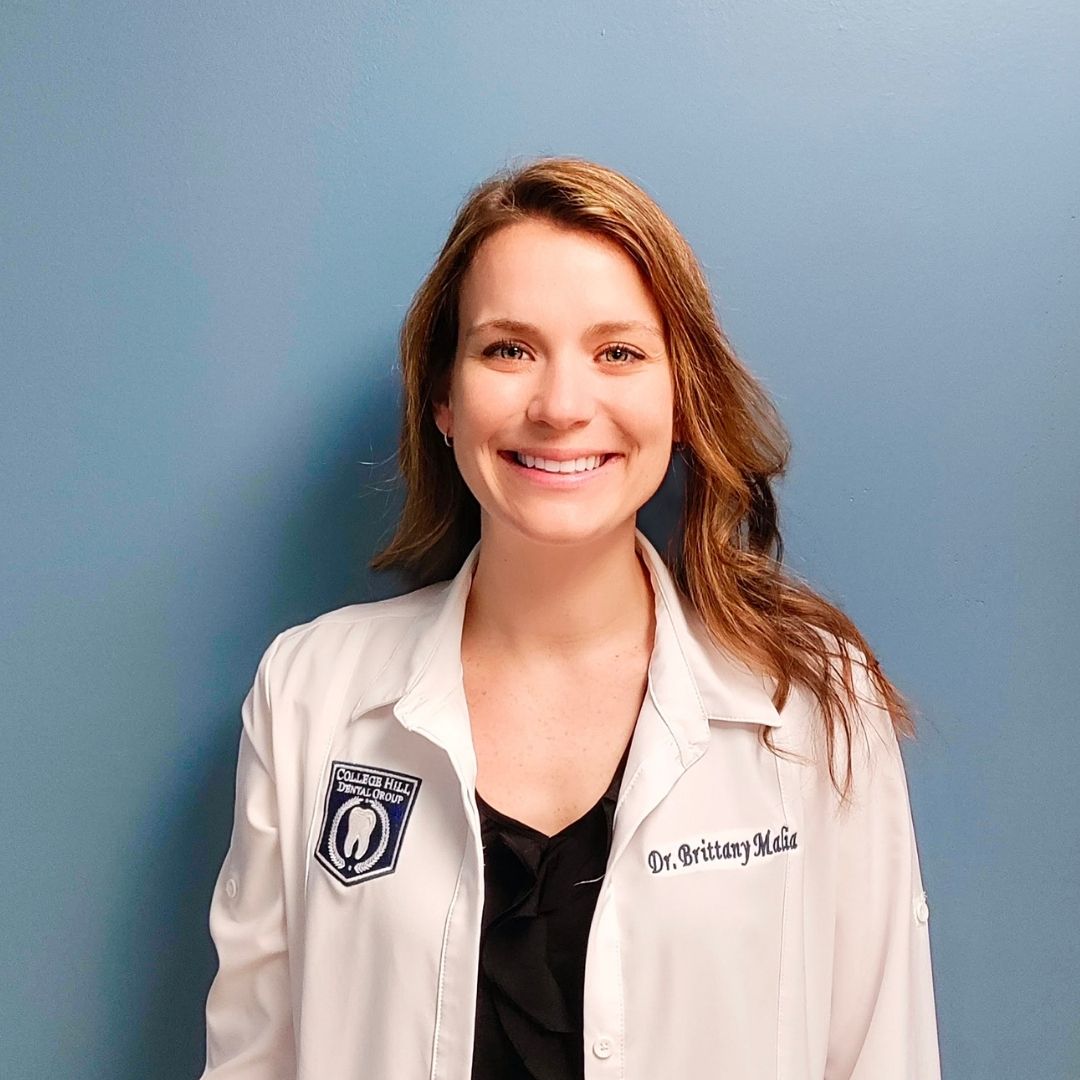 Dr. Brittany Malia
Dr. Brittany Malia was born and raised in Luzerne County, Pennsylvania and is a graduate of Hanover Area High School. She then attended King's College, where she graduated with a Bachelor's Degree with Honors in Biology and went on to earn her Doctor of Dental Medicine Degree from the University of New England in Portland, Maine. She furthered her education and training through completion of a General Practice Residency at Lehigh Valley Health Network and is now an attending dentist for the program. Dr. Malia has gone on to complete numerous hours of continuing education more recently focusing on Endodontics and Surgery. Dr. Malia's interest in dentistry started at a young age, and she attributes her initial interest in the field to her orthodontist. After her own treatment, she went on to spend several hours in both high school and college shadowing in the dental field. Dr. Malia is deeply passionate about maintaining and restoring oral health, and is committed to helping patients achieve confident smiles. In her free time, Dr. Malia likes to hike, paint and read. She also enjoys spending time with her family and rescue dog, Hamlet.
Patty
Patty has worked as an Office Manager at College Hill Dental Group since 1984. She ensures all runs smoothly throughout the practice, including patient scheduling, billing and insurance claim processing. She lives in Bangor, where she was born and raised. She has been married to her husband Craig for over 25 years and they have two sons. Patty also has two dogs, Mel, a German Shepherd, and Gunner, a Black Lab, who keep her occupied when she's not holding down the fort at College Hill Dental Group.
Caroline
Caroline has been practicing Dental Hygiene at College Hill Dental Group since 1990. Prior to that, she began her career here as a Dental Assistant in 1988. She is a graduate of Northampton Community College, where she earned a Certificate in Dental Assisting and an Associate's Degree in Dental Hygiene. Caroline also has strong ties to the Dental Hygiene community both locally and nationally: she has been a member of the Lehigh Valley Dental Hygiene Association and the American Dental Hygiene Association for more than 25 years. Caroline lives in Bethlehem with her husband Phil and her three sons. When she is not busy practicing Dental Hygiene, Caroline is volunteering for organizations such as the Boy Scouts and the Bethlehem Community Garden as well as enriching her knowledge with continuing education courses.
Anna
Anna has been working in the dental field for over 25 years. She began her career as a Dental Lab Technician, and Anna's passion and interest in Dentistry motivated her to complete further training and many certifications. Anna has been an Assistant at College Hill Dental Group since 2015 and she is an integral part in allowing us to provide many great services to our patients such as same visit denture repairs. Anna lives in Easton with her husband and daughter. and whenever she can, Anna loves to be outdoors.
Melanie
Mel serves as our Dental Assistant and Social Media Coordinator. She was born and raised in Allentown, and she graduated from Lehigh Carbon Community College with a degree in Health Science. While attending college, Mel worked as a server at Texas Roadhouse, advancing her excellent ability to multitask and strong work ethic, which she now applies as our team member. Along with her other responsibilities, Mel tracks practice inventory, as well as helps to onboard new Dental Assistants joining our growing team. Outside of work, Mel enjoys taking her German Shepherd, Kilo, on walks and vacationing with her family in Wildwood.
Tiffani
Tiffani thoroughly enjoys working within the dental field and has been doing so as both a manager and consultant for over 30 years. Originally from Northern NJ, Tiffani moved to Nazareth in 2017, where she lives with her husband and son. In her free time, Tiffani loves spending time with her family and horseback riding. She also serves on the PTO Board of her son's school.
Kelli
Kelli is our Patient Care Coordinator, continuing her long-standing career focused on providing top-tier customer service and centered on successfully building strong relationships. Prior to joining our team, Kelli worked as a realtor and a teacher. She graduated from Fisk University with a degree in Psychology and lives in Easton with her husband, their son, daughter, and their dog, Nonnie. Kelli enjoys playing tennis and testing new recipes.
Stephanie
Native of Northern California, Stephanie moved to Pennsylvania in 1990. A graduate of Northampton Community College, she earned a certificate in Dental Assisting and an Associates Degree in Dental Hygiene in 1994. She is currently attending Montgomery County College for a certification to administer Anesthesia. Stephanie loves spending time with family, especially her Granddaughter. She plays in a golf league at Green Pond Country Club in Bethlehem and enjoys playing ice hockey and plays in a league for the GHL.
Inspiring Words From Our Clients ​
I recently visited Dr. Dave and can truly say I had a pleasant experience for extensive dental work done. Dr. Dave and all of his staff members were extremely professional and welcoming. Moreover, Dr. Dave was so knowledgeable and took time to answer all my questions. This is definitely going to be my primary dentist.
Great Staff. Went there because I was having pain in my tooth. They examined it and presented me with all the options. I had a tooth extracted with no pain at all. They are very caring people and I would reccomend them to everyone. I set a follow up appointment for a cleaning.
I have extreme dental anxiety. This was by far the most comfortable I have ever been in a dentist's office. What a wonderful staff and beautiful office! I appreciate the time that was taken to make me feel comfortable and answer all my questions. Dr. Dave is fantastic and I am looking forward to my new smile!! Thank you! I highly recommend!!!
We've loved this dental group for a long time, and the new team has fully modernized the office. Carolyn is wonderful, and Dr. Dave is smart and very skilled. They are at the forefront of the field, but they also have terrific people skills.
Would highly recommend this group! All you can ask for in a practice. Just had a crown built today. Couldn't be happier. Looking forward to more visits.5 stars!!!!!!!